Famous Tourist Places of Uttarakhand
A mystical land of mountains and mythologies, exquisite landscapes and exhilarating adventure, and wellness and yoga, Uttarakhand has something to offer every traveller. Popularly known as Devbhoomi, or the land of gods, the state is framed by the Himalayas and divided into two main regions, Garhwal and Kumaon. While Uttarakhand has several well-known destinations like Nainital, Mussoorie, Corbett National Park and Auli, and pilgrimage sites like Kedarnath, Badrinath, Rishikesh and Haridwar, explore the 13 lesser-known destinations from the state's 13 districts.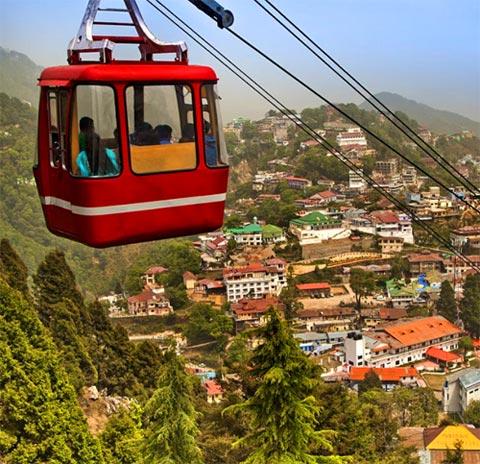 Mussoorie – the hill Queen
Mussoorie, also known as Queen of the Hills, is among the most popular hill stations of the country. A Britisher, Captain Frederick Young, accompanied by an official named FJ Shore, had climbed up the hill from the Doon valley in 1827 and found this ridge offering great views and a salubrious climate. This visit laid the foundation for this grand hill station. A captivating paradise for leisure travellers and honeymooners, it is a perfect summer resort.
Located on a 15-km-long horseshoe ridge with the grand Himalayas as a backdrop, Mussoorie spreads across at a height of 2,000 m above sea level. From this vantage point, it offers scenic views of Himalayas peaks in Western Garhwal.
Nanital
Nainital, the charming Himalayan lake town, is a picture-postcard perfect hill-station and one of the most popular in Northern India. Commonly known as the 'Lake District', Nainital is nestled high up in the Kumaon Himalayas at an altitude of around 2,000 m above sea level. This beautiful town in surrounded by seven hills, popularly known as 'Sapta-Shring' – Ayarpata, Deopata, Handi-Bandi, Naina, Alma, Lariya-Kanta and Sher-Ka-Danda.
The majestic mountains and the sparkling waters of the lake add an immense lot to the beauty of the town. The town is centred around the emerald mountain lake Naini. Nainital is an all-year destination but the weather is the best between March and June.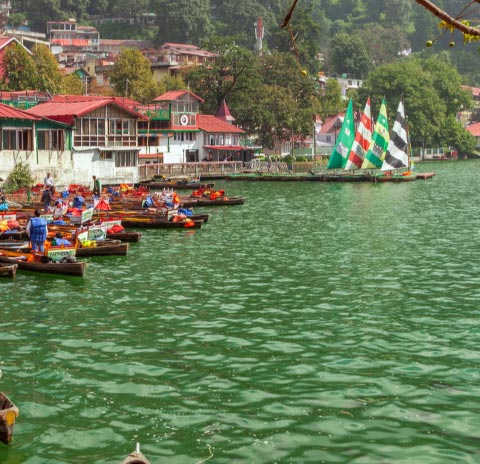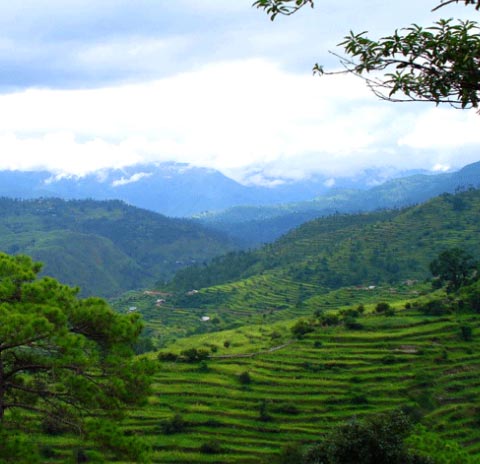 Ranikhet
Ranikhet is a hill station and cantonment town in Almora district in the Indian state of Uttarakhand. It is the home for the Military Hospital, Kumaon Regiment (KRC) and Naga Regiment and is maintained by the Indian Army. Ranikhet is at an altitude of 1869 meters above sea level and within sight of the western peaks of the Himalayas.
Ranikhet, which means Queen's meadow in Hindi, gets its name from a local legend, which states that it was here, that Raja Sudhardev won the heart of his queen, Rani Padmini, who subsequently chose the area for her residence, giving it the name, Ranikhet.
Kausani
Kausani is a hill station situated in the Bageshwar district of the Uttarakhand state of India. Kausani is located 52 km north of Almora. There are very few places in the Himalayas that can compare with the beauty of Kausani – a picturesque hill station famous for its scenic splendor and its spectacular 300 km-wide panoramic view of Himalayan peaks like Trisul, Nanda Devi and Panchchuli.
Kausani lies atop a ridge at an altitude of around 1890 m amidst dense pine trees overlooking Someshwar valley on one side and Garur and Baijnath Katyuri valley on the other on Almora-Bageshwar-Didihat Highway. Kausani is a small Hill town in the Bageshwar District of the northern Indian state of Uttarkhand.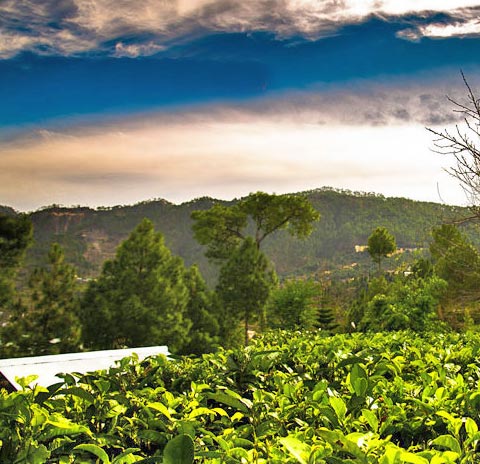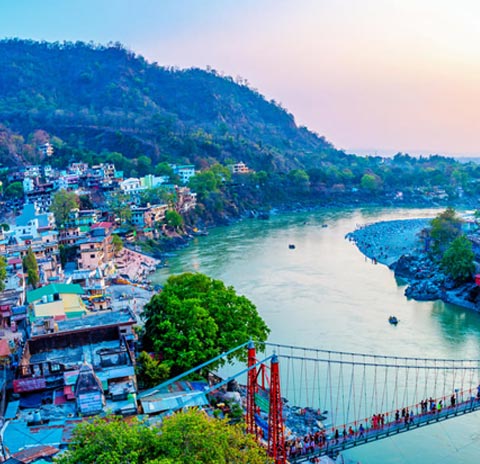 Rishikesh – the yoga capital of world
Rishikesh is a small town and a municipal board in Dehradun district in the northern state of Uttarakhand in India. Scenically located where the Holy Ganges River comes down from the Himalayas.
Rishikesh, sometimes nicknamed The World Capital of Yoga, has numerous yoga centres that also attract tourists. It is believed that meditation in Rishikesh brings one closer to attainment of moksha, as does a dip in the holy river Gnaga that flows through it. Every year Rishikesh Tourism guides thousands of students to learn and experience Ayurveda, Yoga and Panchkarma in Rishikesh. This place is also known for it's adventure activities.